| | |
| --- | --- |
| Agstafa (Aqstafa, Elisavetinka) | Azerb.com |
| | |

Small provincial town located near the Georgian and Armenian borders, Agstafa was founded in 1914 as Elisavetinka, mainly as a railway junction. In Agstafa the railway coming from Baku splits in two: one going north to Tblisi via Rustavi and another going east to Yerevan via Qazax and Dilizhan. The collapse of the Soviet Union and the conflict with Armenia made Agstafa's role less important, as the rail and road connections to Armenia have been closed.

The Armenian border is naturally also closed but you can cross to Georgia at Krasny Most. Krasny Most is Russian for 'Red Bridge', after the existing and still operating 12th century masonry bridge. The old bridge has been replaced in 1998 as the main crossing by the TRACECA bridge.
The border between Astafa rayon and Kakheti region of Eastern Georgia is still disputed. The David Gareja monastery complex is located on the half-desert slopes of Mount Gareja. Part of the border passes through the top of the 813-meter-high Udabno / Keshishdag ridge, which harbors cave monasteries on its top and also on the northern (Georgian-controlled) and southern (Azerbaijani-controlled) slopes. Part of the complex is also located on the Azeri side of the border, in Agstafa rayon. The complex, which contains a rich collection of cave frescoes, has been a site for conflict as well as for contemplation, ever since construction began in the 6th century. Azerbaijan claims th monastery of Bertubani, which features frescoes of the legendary 12th-13th century Georgian Queen Tamara and her son, Giorgi IV is on its territory.

The European Union TRACECA programme aiming at improving transportation links in the Caucausus has been improving connections in the area, but only after a permanent solution is found for the Nagorno Karabakh conflict can links to Armenia be re-established.
These days Agstafa is a rather quiet town. In the centre you'll find the pleasant Vurgun park, with a decent variety of restaurants and tea places and a cinema. You can visit the Regional Historical Museum on H. Aliyev Street.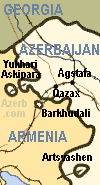 You can take an overnight train to Baku, the bus to Baku or the mini bus to Qazax. There is a small but rather comfortable hotel near the station, on 20th January street.
In another reminiscent of Stalinist borders, just west of Agstafa Azerbaijan has two very small exclaves within Armenian territory which are now under Armenian control (Yukhari Askipara and Barkhudali), the same happening with a bit of Azerbaijan proper, the territory around Askipara. As 'compensation' in August 1992 the Azeri army took the tiny Armenian exclave of Artsvashen, situated inside Azerbaijan, south-west of Shamkir.
(380 km north west of Baku)

| | |
| --- | --- |
| A to Z of Azerbaijan / A dan Z ye Azerbaycan | www.azerb.com |