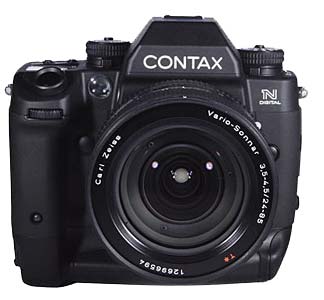 Main Features
6 Megapixel chip in full 35mm format (24x36mm)
The heart of the CONTAX N DIGITAL is the 24x36 mm 6 mega pixel chip, which has been employed in this camera for the first time. This chip guarantees the excellent image quality rightly expected from such names as Contax and Carl Zeiss. As there is no change in the angular field of the focal length due to a shortened frame diagonal, all Carl Zeiss N lenses, and via the adapter NAM-1, also the Contax 645 lenses can be fully utilized. This makes the CONTAX N DIGITAL an excellent photographic tool which knows no limits even in the wide angle range.
Super thin lowpass filter
The colourless crystalline optical lowpass filter is an exclusive development by Kyocera Crystal Technology, which eliminates specific frequencies and thus optimizes colour rendition. Kyocera was able to produce this lowpass filter with a thickness of only 1/6th of normal filters.
Image recording formats for all occasions
The photos can be recorded in 5 different formats. The widespread JPEG format is available in 3 compression ratios. It is supplemented by the uncompressed RGB-TIFF format and a RAW mode especially for processing images on the computer as is necessary for professional demands. Together with a lap top PC continuous shooting with a high picture frequency is possible when out and about.
Variable white balance
An optimum white balance is guaranteed in all situations. Over and above the automatic colour temperature correction, white balance based on a specific subject detail is possible at the push of a button. Fixed presettings can also be selected manually.
Recording media: CF cards types I and II as well Micro Drive
The fail-safe and inexpensive Compact Flash cards are used as recording media. For higher capacity requirements IBM Micro Drive can also be used.
High Speed-DSP and Firewire (IEEE1394)
The N DIGITAL uses high speed digital image processing (DSP), which allows continuous shooting at 3 frames per second. Image transfer takes place via a Firewire (IEEE 1394) interface. Thus it is possible to transfer even a RAW 12.5 megabyte file in one second and also handle high speed data transfer efficiently.
LCD colour monitor for image checking
A 4.5 cm low temperature, polysilicon TFT colour monitor with approx 200,000 resolution and a Graphic User Interface is located at the back of the camera. The photographer can check exposure, focus and file information directly on the LCD monitor.
Shooting assist function
In playback mode, this allows exposure confirmation on the LCD with a histogram and the accentuation of picture areas which are too bright as well as the focus situation. Simultaneously the data stored with the picture file are displayed.
The essential functions of the CONTAX N DIGITAL
The CONTAX N DIGITAL shares all basic functions of the CONTAX N1, which means that the N photographer can work in his usual manner.

Below is a summary of the most important functions of the two Contax N models:
Dual Focus System
5 Point wide Array diagonal AF System
Fine Focus Bracketing (Auto Bracketing System with variable focusing)
Maximum shutter speed of 1/8000 sec and X-sync 1/200 sec
TTL evaluative metering, centre-weighted average metering, spot metering
TTL controlled auto flash
Custom Functions
Mount Adapter NAM-1 for Contax 645 lenses
Large range of accessories
All interchangeable lenses and accessories for Contax N1 can be used with the CONTAX N DIGITAL as well as the Contax 645 lenses and accessories
source and copyright: Contax / Kyocera