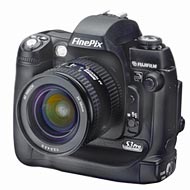 Among the FinePix S3 Pro's list of enhanced features is its one-of-a-kind Super CCD SR sensor technology designed specifically for professional photography. This proprietary technology creates a wider dynamic range to produce images that approach true photographic quality. As a result, the FinePix S3 Pro will capture highlight and shadow detail often lost by digital cameras in high contrast scenes. In addition, Super CCD SR sensor technology provides a higher level of sensitivity, improved signal-to-noise ratio and more natural color reproduction.

With 12.3 million (S-pixel: 6.17 million, R-pixel: 6.17 million) effective pixels, the APS size (23x15.5mm), professional Super CCD SR sensor of the FinePix S3 Pro offers wider dynamic range plus overall improved quality for beautiful digital images, capturing more detail across a range of brightness in the same image.

The FinePix S3 Pro has a unique body designed and crafted to Fujifilm specifications. The solid, one-piece body is made from a durable polycarbonate and has a F-mount lens fitting for Nikon lens compatibility. Dual shutter release buttons facilitate both horizontal and vertical shooting. Newly developed two-inch, 235, 000 pixel horizontal display delivers crisp, clear images and approximately 100% frame coverage.

The FinePix S3 Pro is extremely efficient power-wise, running solely on four AA Ni-MH rechargeable batteries. The PC-Sync connection allows strobes or other external flash systems to be connected to the FinePix S3 Pro. Flash sync speed is 1/180th of a second.

The FinePix S3 Pro offers Intelligent Flash with the D-TTL full-aperture exposure metering system providing outstanding results with all Nikon compatible speed lights. A first-time offering in a Fujifilm digital camera, this allows a new level of creative lighting options for FinePix S3 Pro users. The FinePix S3 Pro provides IEEE 1394 (FireWire) and USB 2.0 interfaces for camera control (IEEE1394 only) and high-speed image transfer.