| | |
| --- | --- |
| Health in Azerbaijan | Azerb.com |
| | |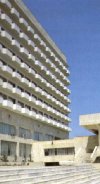 Public medical facilities are still below European standards, in fact Azerbaijan's health care system was one of the least effective in the Soviet republics, and it deteriorated further after independence. There is a lack of some medical supplies and modern equipment. Private medical services are available but these are limited to small clinics, general practice and emergency treatment. Baku is a healthy place for those who take simple precautions. Stomach upsets are the most common complaints.

Vaccination against hepatitis A and B, rabies, diphtheria, TB and tetanus is recommended before arrival.

All water should be regarded as being a potential health risk, due to high levels of bacteria. Water used for drinking, brushing teeth or making ice should have first been boiled or otherwise sterilised. In restaurants, ask for bottled water, and make sure that any ice in the drinks has been made from bottled water. Many varieties of bottled water are available; you'll see brands from Turkey, Iran, even Dubai. The "Barjom" brand of bottled mineral water comes from Georgia. Azeris are proud of a local water called "Badamli". Some parts of Baku have their own water supply from natural mineral springs in Sholar, originating more than 150 kms north in the Caucasus mountains. This channel was built by oil baron Taghiyev at the beginning of the century. Bottled water of Sholar is available nowadays, too. A joint-stock company named Apsheron Regional Water Supply has been created and it's hoped that it will contribute to the improvement of the quality of Baku's water supply.

Milk is pasteurised and dairy products are safe for consumption. Only eat well-cooked meat and fish, preferably served hot. Salad and mayonnaise may carry increased risk. Vegetables should be cooked and fruit peeled.

Beaches: According to the Republic's Centre for Hygiene and Epidemiology, the conditions of the Caspian beaches around Baku are not satisfactory, because of high bacterial content. A 'Baku Bay Cleansing Project' is underway. Beware of excessive sun exposure.

Malaria risk, exclusively in the benign vivax form, exists during the summer in southern lowland areas of Azerbaijan, near the Iranian border (map below). Sporadic cases have also been reported in the Baku suburbs. A weekly dose of 300 mg of chloroquine is the recommended prophylaxis for risk areas only. Mosquitos are abundant, so take repellent with you.

Map of malaria risk in Azerbaijan, compiled by the World Health Organization:


Diphtheria occurs. Cases predominantly occur in urban areas, but increasing numbers have been reported in rural areas. Shortages of vaccine, antibiotics and diphtheria antitoxins are contributing to the problem. While proof of diphtheria immunity is not required for travel, travellers should be up-to-date for diphtheria immunization.

Hepatitis B is considered to be endemic in Azerbaijan, where between 4% and 7% of the population suffers from the disease. It causes inflammation of the liver and leads to chronic illness or death.

Major Causes of Death
per 100.000 population (1994)

Circulatory system diseases

336.3

Accidents, poisoning and violence

99.1

Malignant Neoplasms (cancer)

67.6

Respiratory system diseases

31.7

Infectious and parasitic diseases

29.0

Endocrine and metabolic disorders

14.2

Nervous system diseases

12.1




Physicians: 29.000 - 1 per 256 persons

Hospital beds: 74.000 1 per 100 persons

Baku has a wide network of state run clinics and hospitals, there are also several private clinics. The central hospital is on Parliament street, but frequently for major interventions, child birth, etc. expats prefer to go abroad. The clinics most popular with expats are:

German Medical Centre
Rashid Behbutov Street 30
370000 Baku
Tel: +994 12 937 354 / 934 089
Fax: +994 12 939 644
e-mail: aeasos.baku@ans-dx.com
Turkish-American Medical Centre
41/47 Mardanov Gardashlary Street
Tel/Fax: +994 12 941 823 / 973 784
e-mail: tams@azeuro.net
Western Medical Services
66 Alibey Guseynzade Street
Baku
Tel: +994 12 973 744
Fax: +994 12 973 744
Medi Club
45 U. Hajibeyov Street
Tel: +994 12 970 911/12
Fax: +994 12 987 096
e-mail:ulvia@azeri.com


There are numerous pharmacies in the Baku, most of them have numbers instead of names. Some medication may not be available in Azerbaijan, and in some cases the names are different from those in the European Union. Beware of fakes!! It's not difficult to get something over the counter without a prescription. In Baku you can also easily find herbal remedies. A few pharmacies are listed below:

Pharmacy Novruz
13 Mukhtarov
Tel: 924952

Pharmacy Orkhan
4 Mirkasimov
Tel: 956817

Pharmacy Tabib
82 Inglab
Tel: 906926

Pharmacy nr. 1
25 S. Efimov
Tel: 952853

Pharmacy nr. 2
34 Azadlig av.
Tel: 405378

Pharmacy nr. 4
54, 28 May
Tel: 932145

Pharmacy nr. 5
93 Azadlig av.
Tel: 930560

Pharmacy nr. 6
53 Fizuli
Tel: 942914

Pharmacy nr. 11
54 Sabail
Tel: 912284

Pharmacy nr. 25
60 Narimanov av.
Tel: 395945

Pharmacy nr. 27
85 Neftchilar av.
Tel: 923985

Pharmacy nr. 35
207 S. Lazo
Tel: 689912

Pharmacy nr. 54
79 Nizami
Tel: 942818

Pharmacy nr. 274
44 Bakihanov
Tel: 403783

Pharmacy nr. 293
108 S. Vurgun
Tel: 956398

Pharmacy nr. 441
18, 28 May
Tel: 934018
Pharmacy = aptek

Elay Ankara (Turkish joint-venture)
14 Zeinalabdyn Taghiyev st.
Tel. 984816/7
Fax 982541
Dentist = dis hekimi

Centre of Orthopedics and Prosthetic
3 Shirvan st.
Baku 370142
Tel 768146
Fax 768011

Centre for Neuro-Surgery
2 Khudi Mamedov st.
Baku 370123
Tel 715202
Fax 714840

Ophtalmology Hospital
8 Sbail st.
Baku
Tel 911289
Fax 910892

Psychiatric Hospital
40 Suleyman Rustamov st.
Baku 370007
Tel 404221
Fax 405134

Tubercolosis Hospital
12 Orujaliyev st.
Baku 370002
Tel 665117
Fax 665117

Urology Hospital
4 Zargarpalan st.
Baku 370001
Tel 922433
Fax 923337

Children's Clinical Hospital
42 Azerbaijan av.
Baku 370000
Tel 987242
Fax 934980

Centre for Oncology
210 Sharifzade st.
Baku 370112
Tel 682467
Fax 690962
Hospital = Xëstëxana

Baku Veterinary Service
80 Vidadi st.
Baku 370009
Tel. 944539 / 948835
Veterinary Pharmacy
151 B. Safarogy
Baku
Tel. 946568
Drugs are very prevalent and open in Baku. Not surprising considering the geography of the country and it's neighbours1. There is also limited local cultivation of cannabis and opium poppy.

In many of Baku's night spots it won't be difficult to understand who is dealing... furthermore the young foreigner is sometimes approached by sellers in the most unexpected locations.

Be discrete, very discrete. Although drugs are readily available, Baku is not Amsterdam and drugs are illegal even in small amounts for personal use. As a foreigner, if you are caught with drugs, expect severe police harassment and the need to pay very stiff bribes at a minimum! The quality is reputed to be good and adultered drugs are rare. Synthetic drugs shipped form Russia are also claiming their market niche.

As in Russia, drug using is a growing social problem in Azerbaijan with similar consequences in the level of criminality.
----
1American control of Afghanistan meant that opium cultivation - used in heroin and other drugs - "is now as widespread as in the 1990s" (words of the UN International Narcotics Control Board...). Cheers for Bush Jr. and free trade...!

| | |
| --- | --- |
| A to Z of Azerbaijan / A dan Z ye Azerbaycan | www.azerb.com |