| | |
| --- | --- |
| Government in Azerbaijan- Hükümet | Azerb.com |
| | |
Country name:
-conventional long form: Azerbaijani Republic
-conventional short form: Azerbaijan
-local form: Azerbaycan Respublikasi
-formerly: Azerbaijan Soviet Socialist Republic (ASSR)- - - - - - - - - - - - - - - - - - - - - - - - - - - - - - - - - - - - - - - - - - - - -- - - - - - - - - - - - - - - - - - - - - -


Map of Azerbaijan

ISO3166 country codes: AZ, AZE, 031. Data code: AJ

Government type: republic

National capital: Baku (Baki)

Administrative divisions:
- 59 rayons (rayonlar; rayon - singular),
- 11 cities (saharlar; sahar - singular),
- 1 autonomous republic (Naxcivan Muxtar Respublika);

Complete A to Z list:

Abseron Rayonu, Agcabadi Rayonu, Agdam Rayonu, Agdas Rayonu, Agstafa Rayonu, Agsu Rayonu, Ali Bayramli Sahari, Astara Rayonu,
Gadabay Rayonu, Ganca Sahari, Goranboy Rayonu, Goycay Rayonu,
Naftalan Sahari, Naxcivan Muxtar Respublikasi, Neftcala Rayonu,
Qabala Rayonu, Qax Rayonu, Qazax Rayonu, Qobustan Rayonu, Quba Rayonu, Qubadli Rayonu, Qusar Rayonu,
Saatli Rayonu, Sabirabad Rayonu, Saki Rayonu, Saki Sahari, Salyan Rayonu, Samaxi Rayonu, Samkir Rayonu, Samux Rayonu, Siyazan Rayonu, Sumqayit Sahari, Susa Rayonu, Susa Sahari,
Ucar Rayonu,
Xacmaz Rayonu, Xankandi Sahari, Xanlar Rayonu, Xizi Rayonu, Xocali Rayonu, Xocavand Rayonu,
Zangilan Rayonu, Zaqatala Rayonu, Zardab Rayonu.


Administrative
divisions


Independence: 30 August 1991 (from the USSR)
National holiday: Independence Day/ Day of the Republic: 28 May (celebrates Azerbaijan's pre-Soviet declaration of independence in 1918)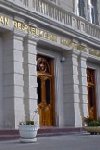 Constitution: Prepared by the 'Commission for draft preparation of new Constitution of the Azerbaijan Republic' under the chairmanship of the President of the Azerbaijan Republic, adopted on 12 of November 1995 by the Referendum of the Azerbaijan Republic. Came into force since 27 of November 1995. Full text (in English). Issues relating to compliance with the constitution are under the scope of the Constitutional Court.
Legal system: based on civil law system.
The legal system of Azerbaijan has changed little from the system of the Soviet period. The national Supreme Court serves as a court of appeals; below it are two levels of judicial jurisdiction, the district and municipal courts.

These courts, supposedly independent, are not immune to political manipulation, as evidenced by Aliyev's ouster of the chief justice of the Supreme Court in July 1993 because of the judge's support for Elchibey and the APF.
Trials are generally public, and defendants have the right to choose their own attorney, be present at their own trials, confront witnesses, present evidence, and appeal the verdict. In cases involving national security or sex offenses, a judge may decide to hold a closed trial. Despite the other stipulated rights of the defendant, the presumption of innocence has not been incorporated specifically into the criminal code. Thus the decision of the state prosecutor to bring a case to trial has considerable bearing on the final verdict. (source: Library of Congress)

-chief of state: President Ilham Aliyev (since October 2003)
should you need to contact the president, the telephone is: 651011
(the president's office is on 19 Istiglaliet street, Baku 370066 - the 'White House')
-

head of government: prime minister Artur Rasizade (since October 2003)
should you need to contact the prime minister, the telephone is: 925344
-cabinet: Council of Ministers appointed by the president and confirmed by the National Assembly (Milli Mejlis)
(the council of ministers is on 68 Lermontov street, Baku 370066 - tel. 924422)

During the recent years the government has managed to keep some political, social and economic stability. However it is accused by the opposition parties of corruption, nepotism and inefficiency. Great influence at all levels is exerted by several groups, among them: the presidential circle, the army, the interior ministry and the border police.

Standards of living are still low and, if the new oil revenues do not appear to percolate at all down to the general population, there is scope for social and political unrest. While the government's authoritarian methods have contained serious political opposition to date, this makes it even more likely that, when the Aliyev dynasty finally relinquishes power, the country could face political turmoil.
Ministries

Ministry of Agriculture and Food
4 Shikali Gurbanov, 370078
Tel. 945355
Fax 944334
Ministry of Finance
6 S. Vurgun
Tel. 933012
Fax 987969
Ministry of Material Resources
83/23 Alekperov
Tel. 394296
Fax 399176
Ministry of Communications
33 Azerbaijan av, 370139
Tel. 930004
Fax 934480
Ministry of Foreign Affairs
3 Gyanjlik sq.
Tel. 923401
Fax 988480
Ministry of National Security
2 Parlamentsky av.
Tel. 950491
Fax 936296
Ministry of Culture
Government House, 370016
Tel. 934398
Fax 935605
Ministry of Information and Press
12 A. Javad
Tel. 926357
Fax 929333
Ministry of Public Health
4 Kichic Sahil
Tel. 932977
Fax 934646
Ministry of Defence
3 Azizbayov av, 370073.
Tel. 929250
Fax 980879
Ministry of Internal Affairs
(Icisleri Bakanligi)
7 H. Hajiyev
Tel. 909222
Fax NA
Ministry of Trade
23 Niyazi
Tel.921531
Fax 987431
Ministry of Economy
Government House, 370016
Tel. 936920
Fax 932025
Ministry of Justice
13 Bul-Bul av.
Tel. 984941
Fax 985931
Ministry of Youth and Sport
98a F. Khoisky av.
Tel. 981426
Fax 643650
Ministry of Education
Government House
Tel. 937266
Fax 984207
Ministry of Labour and Social Welfare
Government House
Tel. 930542
Fax 939472
Ministry of Foreign Economic Relations
68 Lermontov st., 370066
Tel. 929390
Ministry of Local Industry
Government House, 370016
Tel. 985325
Suffrage: 18 years of age; universal

Elections: The current constitution institutes a strong presidential system. The president is elected by popular vote to a five-year term. The 2003 presidential election was classified as not fair by the OSCE (next elections: October 2008). The prime minister and first deputy prime ministers are appointed by the president and confirmed by the National Assembly. Prospective ministers do not have to be MPs.
Local power is weak, Azerbaijan held its first post-Soviet local elections only on December 1999, filling about 21.000 local power positions. The Council of Europe has stated that the local elections in Azerbaijan were marked by serious violations which could effect the result.

Legislative branch: unicameral National Assembly or "Milli Mejlis" (with 125 seats; like the President, the Milli Mejlis members serve five-year terms). There is one empty seat for the Nagorno-Karabakh representative. The last parliamentary election of the millennium was held in November 2000, and again the OSCE reported ballot-stuffing, intimidation of opposition party members, and manipulation of turnout figures. According to the OSCE and the Council of Europe the counting process was completely flawed. The government party, Yeni Azarbaycan, elected 79 MPs, from a list headed by president Aliyev's son Ilham.

In this site you can also find the English translation of some of the laws most relevant for foreigners living, visiting or doing business in Azerbaijan, see legislation. The parliament is located on 1 Parliament street, Baku 370152 - tel. 926675.
Judicial branch: Supreme Court

Political parties:
New Azerbaijan Party (Yeni Azarbaycan) or YAP -

25 U. Hajibauyov, Tel. 938425
Azerbaijan Popular Front (Xalq) or AXC - Ali Karimli, chairman

33 Khagani, Tel. 989081
Party for National Independence of Azerbaijan or AMIP - Etibar Mammadov, chairman

179 Azadlig av, Tel. 621735
Musavat Party or YMP - Isa Gambar, chairman

3 R. Behbudov, Tel. 981870
People's Democratic Party of Azerbaijan - Rafig Turabxanly

Tel. 380583
People's Freedom Party (Xalq Azadliq) - Yunus Oguz, chairman

22 Khagani, Tel. 983145
Democratic Party of Independence of Azerbaijan - Vagit Kerimov

Tel. 674516
Communist Party of Azerbaijan (CPA-2) - Firudin Hasanov

Tel. 948937
Social Democratic Party of Azerbaijan or SDP - Zardusht Alizad, chairman

3, 28 May, Tel. 933378
Liberal Party of Azerbaijan - Lala Hajiyeva

Tel. 934514/7
Vahdat Party (Unity) - Leyla Yunusov, Gadzhi Alizade

Tel. 983173
Azerbaijan Muslim Democratic Party (former Islamic Party) - Haji Mekhti Shamilli

68 Tagyzadeh, Tel. 315031
Azerbaijan Democratic Party or ADP - Ilyas Ismaylov

5 M. Huseinov, Tel. 664059
Civic Solidarity (Vatandash Hamrailiyi) - Sabir Rustamxanli

3 U. Hajibayov, Tel. 926747
Ana Vatan Party (Patriotic) - Fazail Agamali

14 Mardanov Gardashlary, Tel. 938292
Green Party (Yashil)

33 Istiglaliyat, Tel. 926119
National Salvation Party (Milly Qutulush)

86 Nizami. Tel 987396
Party of National Justice (Adalat)

Tel. 610990
Unification Party (Birlik)

Tel. 317797

As in Turkey, Azerbaijan also banned its Islamic party, arresting and sentencing the leaders to prison terms in 1997, on charges of spying for Iran. In November 1999 the authorities in pardoned three of the jailed leaders. The President, Haidar Aliyev, signed a decree pardoning Alikram Aliyev, Vagif Gasymov and Hajiaga Nuriyev, saying they had "shown repentance for their crimes". Currently the Azerbaijan Muslim Democratic Party represents the Islamic political wing.

During the spring of 2000 several other opposition leaders were arrested when demonstrating for free elections. The winter of 2000 brought new demonstrations this time protesting against fraud in the general elections. As one diplomat says, it feels and looks a bit like a slightly seedy Gulf emirate.

Political pressure groups:
self-proclaimed Armenian Nagorno-Karabakh Republic;
Talysh independence movement;
Sadval (Lezgin movement)

Membership in international organisations:
UN (March 1992),
CSCE (January 1992),
CIS (September 1993),
Organization of Islamic Conference (1992),
Council of Europe (special observer, 1996; full membership 2001),
Partnership and co-operation with the European Union (1996),
OEC - Organization of Economic Co-operation, 1992,
Organization of Black Sea Economic Co-operation (1992),
EBRD - European Bank of Reconstruction and Development (1992),
World Bank (1992),
UNESCO,
UNICEF,
WHO - World Health Organization,
GATT - General Agreement on Tariffs and Trade,
IFRCRC -International Federation of Red Cross and Red Crescent ,
Interpol,
the International Olympic Committee,
etc.
Azerbaijan has applied for membership of the WTO - World Trade Organisation.
see also: human rights, NGOs, legislation, history, geography, people, Heydar Aliyev, places, summary, Baku airport, images
| | |
| --- | --- |
| A to Z of Azerbaijan / A dan Z ye Azerbaycan | www.azerb.com |