| | |
| --- | --- |
| Literature of Azerbaijan | Azerb.com |
| | |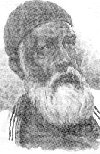 Azeris have a high level of education and love and know their literature, both poetry and prose. Azeri literature is represented by such luminaries as Nizami Ganjavi, the peak of whose creative activity "Khamsa" is included in the treasure-house of world literature, Afzalladin Khagani, Samad Vurgun, Mehseti Ganjavi, Bakhtiyar Vahabzadeh, Mohammed Fizuli, Molla Panah Vagif, Khur-shud-banu Natavan - their lyrics have acquired world acknowledgement, dramatist and thinker Mirza Fatali Akhundov, and satirists Sabir, Jalil Mammadkuluzade.

During Stalin's reign, like elsewhere in the Soviet Union, many of the country's writers and artists were victims of the great purge, either exiled or executed.

Historically the poet Nizami Ganjavi dominates Azeri literature (born in Ganca, although the Iranians claim him as being a Persian author). Among his works one should mention: the didactic poem "The Treasure house of Mysteries" written in 1173 and containing twenty chapters and "talks," with preaching and parables woven into the fabric of the narrative; his historico-philosophical poem "Iskandar-Nama" (Alexander the Great), his lyric poems that glorify the purifying and ennobling love of "Khosrow and Shirin" (1181) "Seven Beauties" (1197), and "Layla and Majnun" (1188).

The story of "Layla and Majnun" is one of the best known legends of the Orient, both a touching love story and a profound spiritual allegory. The two lovers of this classic tale are remembered to this day in the poems and songs from the Caucasus to the interior of Africa, and from the Atlantic to the Indian Ocean.
Nizami collected a number of folk versions and shaped them into a single narrative poem of some 4,000 stanzas near the end of the twelfth century. Compared for its beauty and genius to Shakespeare's "Romeo and Juliet", the Sufis consider Nizami's "Layla and Majnun" an important parable of religious experience. Majnun, through his great love for Layla, is able to transcend individual identity and becomes the Beloved.
"Ali and Nino": is the quintessential Baku historical love story, is an adventure romance published under the pseudonym Kurban Said, the pen name of Baku-born Jewish author Lev Nussimbaum. The novel is set shortly before and after the Russian revolution. Ali Khan Shirvanshir, descendant of a noble Muslim family, is educated in a Russian boy's college. While his father is still completely a part of Asia, Ali is exposed to Western values in school and through his love for Georgian Christian girl, Nino, who belongs to the European world. The book describes the love of Ali for Nino, as well as the Ali Khan Shirvanshir's travels to Daghestan, Karabakh, Georgia and Iran.
Should you become interested in deepening your knowledge of Azeri literature, only the classic works are available in Western European languages, e.g.:

Chosrou und Schirin; (German)
Ganjavi, Nizami; DTV, Munich, 1993
ISBN: 3423240296

Die Abenteuer des Königs Bahram und seiner sieben Prinzessinnen. (German)
Ganjavi, Nizami; Beck, Munich, 1997
ISBN: 3406427804

Die sieben Geschichten der sieben Prinzessinnen; (German)
Ganjavi, Nizami; Manesse-Verlag., Stuttgart, 1959
ISBN: 3717513168

Haft Paykar; (English)
Ganjavi, Nizami; Oxford Paperbacks, 1995
ISBN: 0192831844

Layla and Majnun; (English)
Ganjavi, Nizami; Blake Publishing Ltd, 1997
ISBN: 1857821610

Leila und Madschnun; (German)
Ganjavi, Nizami; Manesse-Verlag., Stuttgart, 1963
ISBN: 3717513141



Today it's still not very easy to get reference literature before travelling to Azerbaijan, either for tourism or business purposes. Here are a few titles that may be useful for the foreign visitor:

Armenia, Azerbaijan, and Georgia
Curtis, Glenn; Claitors Pub Div., 1995
ISBN: 9996317617

Azerbaijan Diary: A Rogue Reporter's Adventures in an Oil-rich, War-torn Post-Soviet Republic;
Goltz, Thomas; M.E.Sharpe, 1998
ISBN: 0765602431

Azerbaijan - Land of Fire; (pictorial book)
Azerbaijan International, Sherman Oaks, CA, 1996
ISBN: 0-9654388-0-5

Azerbaijan - Then and Now;
Lerner Geography Dept.; Lerner Publications Company, 1993
ISBN: 082252810X

Azerbaijan with Georgia;
Elliott, Mark; Trail Blazer Publications, 1999
ISBN: 187375633X

Baku - A Guide;
Agayev, Emil; Raduga Publishers, Moscow 1987
ISBN: 5-05-001183-3

Doing Business with Azerbaijan
Kettaneh, Nadine; Kogan Page, 1999
ISBN: 0749431660

Georgia, Armenia, and Azerbaijan - Former Soviet States;
Roberts, Elizabeth and Akiner, Sharon; Millbrook Press, 1992
ISBN: 156294309X

History of Azerbaijan
Leeuw, Charles
Curzon Press, 1999

Oil and Azerbaijan;
Powrie, Rhoderick; Arguments & Facts International, 1994
ISBN: 1873976097

Russia and Azerbaijan; (historical and political)
Swietochowski, Tadeusz; Columbia Univ Press, 1995
ISBN: 0231070683

The Azerbaijani Turks: Power and Identity Under Russian Rule
Altstadt, A.L. and Vucinich, W.C.; Hoover Institution Press, 1992
ISBN: 0817991824

The Investor's Guidebook: Armenia, Azerbaijan;
The Stationery Office Books, 1999
ISBN: 0117021628



Considering the love of Azeris for literature it's hardly a surprise that Baku is a pleasure for the book lovers. Books abound and are cheap. You literally stumble into them on the street! (There's a bookshop even on the "oil rocks" complex on the Caspian Sea). Naturally books come mostly in Azeri and Russian. You will still find vast numbers of books in Azeri printed in Cyrillic, but the latin alphabet editions are now taking over. Old editions are not difficult to find. Some of the bookshops in the Baku area:

Akademkniga
51 Istiglaliyat
Tel: 922 230

Azerkitab
8 A. Alizade
Tel: 934 583

Chiraq Bookstore
4 Zargar Palan St.
Phone: 492-3289
Email: Chiraq@Galacticomm.org
Note: wide selection of English language books

Dalga
93 Neftchilar av.
Tel: 920 311

Dom Kinigi
1 Khagani
Tel: 930 215

Dom Kinigi
7 M. Hady, Ahmmadli Settlement
Tel: 755 854

Bookshop nr. 1
8 Micro District
Tel: 389 194

Bookshop nr. 2
Fountain square
Tel: 931 880

Bookshop nr. 9
47 Nobel av.
Tel: 755 854/755 958

Bookshop nr. 12
39 Istiglaliyat
Tel: 925 749

Bookshop nr. 14
29 N. Refibeyli
Tel: 947 516

Bookshop nr. 17
6/8 J. Jabbarly
Tel: 946 973

Bookshop nr. 34
73 Neftchilar av.
Tel: 924 554

Bookshop nr. 35
3 H. Hajiev
Tel: 943 989

Bookshop nr. 51
79/2 Moscow av.
Tel: 669 940

Bookshop nr. 54
12/14 Pushkin
Tel: 987 294

Bookshop nr. 64
12 Ataturk av.
Tel: 641 182

Bookshop nr. 71
21 Hasanogly
Tel: 641 985

Bookshop nr. 122
S. Vurgun
Tel: 954 523

Nizami Bookshop
62 Nizami st.
Tel. 383 446
| | |
| --- | --- |
| A to Z of Azerbaijan / A dan Z ye Azerbaycan | www.azerb.com |