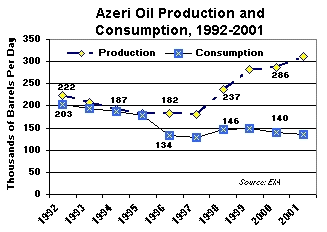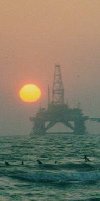 Azerbaijan, the oldest known oil producing region in the world, experienced an oil boom at the beginning of the 20th century and later served as a major refining centre in the former Soviet Union. Oil production peaked at about 500,000 barrels per day (bbl/d) during World War II, then fell significantly after the 1950s as the Soviet Union redirected resources elsewhere.
Azerbaijan's has 1.2 billion barrels of proven oil reserves, as well as enormous possible reserves in undeveloped offshore Caspian fields. However production declined following Azerbaijan's independence in 1991, falling to an estimated 180,000 bbl/d in 1997, but has known dramatic recovery reaching almost 800.000 bbl/d in 2007. Over 80% of Azerbaijan's oil production currently comes from offshore, with a significant percentage coming from the shallow-water section of the Gunashli field, located 100 km off the Azeri coast. Development of new fields through joint ventures and PSAs in the Caspian Sea likely will boost Azerbaijan's oil production well beyond its earlier peak, with predictions that Azerbaijani oil exports could exceed 1.5 million bbl/d by 2010 and 2 million bbl/d within 20 years.

Azerbaijan has taken great care to assure that multiple foreign powers and companies gain a stake in the expected oil boom, for both economic and geopolitical reasons. Seventeen PSAs have been signed. Three of the 17 are for onshore development and the remainder offshore. Two of the PSA consortia, CIPCO and NAOC, were terminated in 1998 for lack of yield.
In what was described as "the deal of the century", an international consortium - the Azerbaijan International Operating Company (AIOC) - signed an 8 billion Euros, 30-year contract in September 1994 to develop three fields - Azeri, Chirag, and the deepwater portions of Gunashli - with total reserves estimated at 3-5 billion barrels. Oil revenues are projected to be roughly 80 billion Euros over the thirty year life of the AIOC and Azerbaijan will realize 80% of these revenues. Almost all of Azerbaijan's oil production increases since 1997 have come from AIOC, which is operated by BP. From November 1997 through the end of 2001, AIOC had produced a total of 133.5 million barrels of oil, mostly from the Chirag-1 stationary platform.
Since 1996, over $4 billion has been invested in the country's oil sector, and Natik Aliyev, president of the State Oil Company of the Azerbaijani Republic (SOCAR), has stated that he expects investment in the country's oil sector to surpass $60 billion.


Currently, Azerbaijan's export routes are: the Baku-Novorossiisk pipeline ("northern route"), which sends Azeri oil to the Russian Black Sea, the Baku-Supsa pipeline ("western route"), which mainly carries AIOC's "early oil" from ACG to Georgia's Black Sea coast (Batumi) and the Baku-Tbilisi-Ceyhan pipeline ("BTC"), main outlet for the Azeri-Chirag-Gunashli (ACG) field in the Caspian. Oil products such as lubricants also are exported by rail in tank wagons to Georgia's Black Sea ports.
Exports through the northern route began at the end of 1997, exports on the western route started 1999, with BTC going on line in 2006 and quickly becoming Azerbaijan's main oil export route. Current production is 800,000 bbl/d, with 1.2 million bbl/d expected for 2008.

Although the Ceyhan route was not the most favourable in technical or economical terms, during years great pressure was exerted by Americans and Turks for its implementation, linking oil fields in the Caspian Sea directly with the Mediterranean. Finnaly on November 1999 an agreement to build the Ceyhan pipeline was signed at the Organization for Security and Co-operation in Europe summit in Istanbul. The agreement included two pipelines ending on the Turkish coast - a seventeen hundred kilometre oil pipeline from Azerbaijan, and a

gas pipeline from Turkmenistan. Construction work of the oil pipeline was completed in the Spring of 2005. Now that the BTC pipeline is built, it provides the Turks with lucrative transit fees and aid the Americans in their bid to prevent Iran from becoming a major export route for Caspian oil, as well as limiting the Russian influence, and therefore the European influence, in the area.

A regional pipeline and transit system centred on Azerbaijan is beginning to emerge. Oil is being shipped across the Caspian from Kazakhstan and Turkmenistan to the port of Baku for further transhipment by rail and pipeline westward to the Black Sea. Shipping volumes have risen from 2,000 bbl/d in 1996 to 20,000 bbl/d in 1997 and an estimated 60,000 bbl/d in 1998. Shipping company Caspian Transco has been working with the Azeri government to overhaul and expand the oil terminal facilities at Dyubendi, 50 kms northeast of Baku, to allow for further increases.

Since 1999 the EU made loans to Azerbaijan of about 25 million Euros under the TRACECA program to rehabilitate and upgrade the seaport near Baku to allow up to 500,000 bbl/d of oil shipments from the eastern Caspian. As Caspian production increases, trans-Caspian pipelines could carry increasing volumes of oil and gas from Kazakhstan and Turkmenistan. The cross-Caspian pipelines could connect with other export pipelines from Azerbaijan, such as the proposed MEP and the early oil routes. In addition, Iran has proposed a pipeline that would transport oil from Baku via a proposed 300 km pipeline to Tabriz in northwest Iran, where it would also connect with the existing Iranian pipeline network and refineries

Azeri crude oil is refined domestically at two refineries: the Azerineftyag (Baku) refinery, with a capacity of 230,000 bbl/d, and the Azerneftyanajag (New Baku) refinery, which has a capacity of 212,000 bbl/d. With domestic production topping out at 311,200 bbl/d in 2001 (and half of that exported as crude oil), Azerbaijan's refineries have been running well below capacity, with overall refinery utilization rates as low as 40%. Heating oil accounts for approximately 50% of output at Azeri refineries, followed by diesel fuel (28%), gasoline (10%), motor oil (7%), kerosene (3%), and other products (2%). Both of the country's refineries are in need of modernization, which the Azeri government estimates will cost between $600 million and $700 million. Modernization of the two refineries will enable Azerbaijan to process imported crude oil, thereby freeing up domestic oil for export via the Baku-Ceyhan pipeline.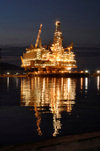 One potential complication in Azerbaijan's plans for developing its Caspian Sea resources is uncertainty over the legal status of the Caspian Sea - specifically the territorial rights of nations bordering its shores (Russia, Kazakhstan, Turkmenistan, Iran, and Azerbaijan).
Azerbaijan has advocated the establishment of maritime boundaries into national sectors based on the equidistant division of the sea. Azerbaijan recently entered into a dispute with Turkmenistan over a field called Kyapaz by Azerbaijan and Serdar by Turkmenistan, which included it as part of its Block 30 licensing. In addition, Azerbaijan's Foreign Ministry has objected to the Iranian decision to award Royal Dutch/Shell and Lasmo a license to conduct seismic surveys in a region that Azerbaijan considers to fall in Azeri territory, and has announced that it will call a tender for the D-43, D-44, and D-74 fields which are located in the same region. Although lately positive sings have been appearing, to date no final resolution of Caspian Sea legal issues has been achieved (see international disputes).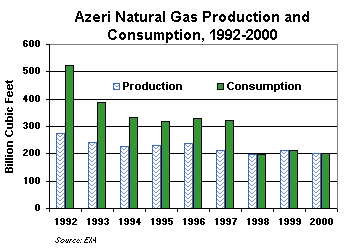 Natural gas production reached in 1999 almost 6x1012 cubic metres, about 95% from offshore fields. Large new gas reserves were discovered but some fields had disappointing results (e.g. Exxon Mobil's Oguz field).
The legal framework for oil and gas exploration is still incomplete and confusing. Steps to improve this situation were taken in 1998 with the publication of the 'subsoil law' and the 'energy law', however even the two new last contradict each other in numerous aspects.
Azerbaijan has proven natural gas reserves of roughly 4.4 trillion cubic feet (Tcf), with significant potential reserves, but because there is no developed infrastructure to deliver natural gas from offshore fields (the source of the majority of the country's production), natural gas has been flared off instead of being piped to markets. In 1999, however, Azerbaijan enacted a law requiring that each oil and natural gas production project include a plan to develop its natural gas potential.

Currently, the Bakhar natural gas field is the country's most important source of natural gas production, accounting for over 40% of total production in 2000. SOCAR produces approximately 85% of Azerbaijan's natural gas, and AIOC produces a small amount of associated gas as well. Azerbaijan's offshore natural gas production is more than 21 times that of its onshore production, but with output declining at Bakhar (due to a lack of new drilling), the country's future natural gas potential hinges on development of the Nakhchivan, Gunashli, and Shah Deniz fields.
Nakhchivan is estimated to contain 900 Bcf in reserves, while Gunashli could be brought online shortly. The Shah Deniz field, which is thought to be the world's largest natural gas discovery since 1978, is estimated to contain between 25 Tcf and 39 Tcf of natural gas. Development of the field, which will cost upwards of $4.5 billion including related infrastructure, should produce the first natural gas by 2004. Azerbaijan is planning to extract 286 Bcf of natural gas per year from Shah Deniz during the first stage of development, allowing Azerbaijan to become self-sufficient in natural gas.
In the meantime, however, Azerbaijan is forced to import natural gas to meet domestic demand. Although the country's natural gas consumption has been on the decline since 1991, Azerbaijan still must import natural gas, since it exports some of its own natural gas to Georgia and to northern Iran. In addition, in an effort to free up around 40,000 bbl/d more crude oil for export, in 2000 Azerbaijan made the decision to switch its power-generating facilities from a fuel oil regime to one that uses natural gas. In 2001, Azerbaijan imported 125 Bcf of natural gas from Russia, including 109 Bcf from Russian natural gas trader Itera, with the remainder from TransNafta.

Azerbaijan plans to increase natural gas imports from Russia by 13% in 2002, to 141 Bcf. Itera has an exclusive contract with SOCAR to supply the Azeri natural gas market in 2002, with supplies piped via the Shirvanovka-Gadzhigabul pipeline at $52 per 1,000 cubic meters (35,300 cubic feet). Through the first four months of 2002, Itera had supplied Azerbaijan with just over 58 Bcf of natural gas. Azerigaz, the state natural gas distribution company, completed maintenance on the Shirvanovka-Qazax pipeline in April 2002, allowing Azerbaijan to increase the volume of natural gas imports from Russia, via Georgia, to 177-212 Bcf if necessary.
Azerbaijan and Iran have been in discussions about exporting up to 70.5 Bcf of Iranian natural gas to Azerbaijan through Astara, as well as piping Iranian liquefied natural gas (LNG) to the Nakhchivan exclave through Culfa. However, the Gadzhigabul-Astara pipeline, which was built during the Soviet era, has a capacity of only 106 Bcf per year and has been inactive for the last 10 years. An investment of $20 million is needed to repair the line, while transportation of Iranian LNG to Nakhchivan is impossible without the construction of a new 28-mile pipeline segment from Khoi (Iran) to Culfa. LNG from Shah Deniz would be given to Iran over three years to compensate Iran's supply of LNG to Nakhchivan.

With the discovery of the Shah Deniz field in 1999, Azerbaijan's natural gas production potential expanded dramatically, setting the stage for the country to become a major net exporter of natural gas over the course of the next decade. International interest in Azerbaijan's natural gas sector has increased sharply due to Shah Deniz, and Azerigaz already has signed agreements with both Statoil and Royal Dutch/Shell to develop and export Azerbaijani natural gas. With the necessary infrastructure in place and the elimination of flaring, Azerbaijan's natural gas production could increase to as much as 1 Tcf by 2010.
On March 12, 2001, Azerbaijan signed its first major natural gas export deal when it concluded an agreement to supply Turkey with 89.2 Bcm (3.1 Tcf) of natural gas over a 15-year period, starting in 2004. Under terms of the deal, Azerbaijan will supply Turkey with 70.6 Bcf in 2004, 106 Bcf in 2005, 177 Bcf in 2006, and 233 Bcf per year from 2007 to 2018. Natural gas for the deal is expected to come primarily from the as-yet undeveloped Shah Deniz field, with SOCAR acting as supplier on behalf of all the participants of the international consortium developing the field. In order to deliver this natural gas, a Baku-Erzurum pipeline is in development, one of several natural gas export pipeline options from the Caspian Sea region that have been proposed.
sources : Energy Information Administration, BBC, BISNIS, WTEXEC