| | |
| --- | --- |
| Karki (Kerki, Kiarki, Kyarki, Tigranashen | Azerb.com |
| | |

Karki village and the surrounding territory is an exclave of Azerbaijan's Nakhchivan Autonomous Republic. It is completely surrounded by Armenia's Ararat province. Located near Turkey and some 5 from the Nakhchivan border (39º 48' N, 44º 58' E), its size is less than 10 square kilometres. Formally it is part of the Sadarak rayon

Karki has been controlled by Armenia since the Nagorno-Karabakh War in May 1992. The main road connecting northern Armenia with southern Armenia passes right by this village.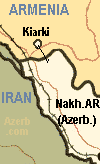 Today Karki village is mostly inhabited by Armenians, due to the population exchanges between Armenia and Azerbaijan during the Nagorno-Karabakh conflict. It has been renamed Tigranashen (after king Tigran) by the Armenian government.
Karki is a green village surrounded by dry meadows, located under a large mountain. Great views of the Ararat can be enjoyed from Karki.
The area is very scenic. Karki is situated in the limits of Khosrov Nature Reserve and the main road presents beautiful sceneries and formations of the Mt. Urts range, rich in caves and fossil sites
Getting there: the border between Nakhchivan and Armenia is closed due to the unsolved conflict, but Karki can be easily visited driving from Erevan. Head south, taking the A325 along the Turkish border till Yerashk, where you'll turn Eastwards, 10 minutes later you will reach Karki (the sign says Tigranashen).
(470 km southwest of Baku)

| | |
| --- | --- |
| A to Z of Azerbaijan / A dan Z ye Azerbaycan | www.azerb.com |