| | |
| --- | --- |
| Baku Airport - Heydar Aliyev International Airport | Azerb.com |

Heydar Aliyev international airport (formerly Bina, after the nearby settlement) is the busiest in the Caucasus, with about 1 million passengers a year. Thanks to the EBRD and the German Government, it has had investment in upgrading navigation aids that have improved safety for air traffic (the airport was the scenario for several accidents, the last serious one with an Azal cargo Boeing 707-323C in 1995).
The airport had a lot of construction work in the 1980's, but the collapse of the USSR resulted in the suspension of the works, with the two main terminals being left incomplete. Increased traffic led to a second runway being opened for wide-bodied aircraft in 1995. The current international terminal was opened in 1993 with precarious conditions. In June 1999, after construction work that seemed to eternalize, the renovated passenger facilities were finally inaugurated.

The airport is linked to Baku by two highways, Aiport Highway and Zigh-Airport Highway. It is approximately 25 kilometres east from downtown (travel time: approx. 40 minutes), one kilometre off the Baku-Mardakan road. If you are coming from Baku you will see the access road on your left, in front of an open air market. The main building is divided in four areas, operating as two terminals (north and south, or front and left if you are looking at the building). North terminal is used for domestic and Commonwealth of Independent States (CIS) flights (use the left entrance for Nakhchivan flights), and Southb terminal for international flights. A new terminal is under construction and should be ready in 2013. To the left side is located the international terminal, nearby, you'll find the airport hotel. The Sheraton Baku Airport is a modern 200 room unit. Most flights arrive at night so it is prudent to have an hotel booking. There are no foreign airline lounges, but business class passengers receive invitations to the airport's VIP lounge, where they can undergo immigration and customs formalities.

Avoid taxis offered by drivers in the customs area, they will cost much more than those just outside the airport building. Choose a licensed car with a TAXI sign. The trip from the airport to the centre of the city costs about 20 manat (less than 20 Euro).
If you don't have a lot of luggage, you have the alternative of taking Bus No. 16 to the city, which costs less than half manat, the bus-stop is just outside the arrivals zone and leaves you at the AZAL office in Baku (S. Vurgun's park - 28 May street). There are several other buses that stop just in front of the market, if you are willing to walk a few minutes (see the airport map).
Hotel Courtesy Cars: Almost all the major hotels will arrange to meet you at the airport for about 20 Euro and will have a driver holding up a sign with your name on it.
Car rental is companies are available on the international arrivals area (north terminal). They provide self drive cars, cars with chauffeur, transfers and also Baku-Tbilisi transfers.

The IATA airport code for Baku is "GYD" (this will be of use in the West, with less experienced travel agency staff, who never heard of Azerbaijan.) The airport code used to be the more obvious "BAK" but was replaced when the airport was renamed after Geydar Aliyev (ICAO Code: UBBB).
On arrival, when crossing the border always declare to have some cash with you, since you cannot leave the country with more money than you brought in. If you want to get manats on arrival, there is a cash machine on the international terminal, 1st floor.

As usual in off-shore oil areas, you also have a good charter service for helicopters and aeroplanes available at Bina airport (contact Azalaero, tel. 242018 or Azalavia, tel. 243714)
When leaving the waiting areas are rather basic, but there is a passable 1st class lounge that just may save your day if you have the right tickets or cards.
Contacts at Baku Airport:

General Inquiries 25-79-00
Passport Control 24-38-85, 24-31-79
Customs 98-02-10, 24-31-47
Airport Manager 24-37-14
Freight/Commercial Office 24-37-44, 24-37-82
Intourist Lounge 24-37-07, 24-13-40
VIP Lounge 24-13-40, 24-38-07
Telephone booth 24-37-99
Veterinary services 24-31-33
Geographical co-ordinates: 40.27N 50.04E -1m
Azerbaijan was admitted in the International Civil Aviation Organization (ICAO) in 1992, and since 1996 ICAO has been pouring know-how into the local operations.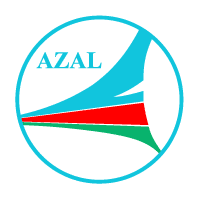 Long gone are the days when you had to go trough Moscow to reach Baku! At present an increasing number of western European airlines connect Baku with Europe and the world.

In addition, several airlines connect Baku to destinations all over the CIS, making Baku an embryonic regional hub. Several charter companies operate from and to Baku. Scheduled and non-scheduled cargo flights are also available.

The flag carrier is Azerbaijan Airlines, AZAL, for short. AZAL is a state owned conglomerate, that inherited the Aeroflot structure. It provides cargo services via Azal Avia Cargo. The company controls most the aviation field in Azerbaijan, besides being an airline it also is in areas such as: airports, basic maintenance, traffic control systems, catering, refuelling, security, and even the National Civil Aviation Academy!

AZAL also owns Azalhelicopter, which operates flights mostly for the oil industry. At present the fleet includes Boeing 757s, Airbus 319 and ATRs. The fleet is being expanded with more recent Boeing aircraft. AZALflights serve destination in Great Britain, Turkey, Israel, Syria, Iran, China, the United Arab Emirates, Russian Federation and the Ukraine. The company expects to add new destinations as its fleet grows. They have offices in: Allepo, Ankara, Baku, Dubai, Istanbul, London, Kiev, Moscow, Nizhni Novgorod, Samara, St. Petersburg, Tehran, Tel Aviv, Trabzon, Urumchi and Yekaterinburg. In violation of EU sovereignty Azal has also been flying to the occupied part of Cyprus.

The post Soviet slight de-regulation allowed for the creation of several smaller companies, the other Azeri airlines are: Baku Airways, Forair, Imair and Turan Air. Azerbaijan does not have its own technical centre for aircraft maintenance, so the local airlines have to send their aircraft abroad for routine interventions.

Aeroflot
19 Rashid Behbudov Street, 370000
Tel: 98-11-67, 98-11-68
Fax: 98-11-66
Air Pulkovo
29/11, 28th May Street, 370010
Tel: 98-29-31
Fax: 98-29-30
Air Ukraina
63 Khagani Street, 370010
Tel: 98-91-37, 98-91-39
Fax: 98-91-38
Alban-Avia
8 Najafgulu Rafiyev Street, 370025
Tel: 66-01-97 / 66-00-76
Fax: 98-05-13
Austrian Airlines
44, J. Jabbarli str., Caspian Plazam Baku AZ 1065
tel.: (99412) 4971822, 4971824
fax: (99412) 4971827
e-mail: office.bak@austrian.com
Azerbaijan Airlines (AZAL)
66/68, 28th May Street
Tel.: 93-71-21, 93-40-04
Fax: 98-15-45
Baku Airways
21 Azerbaijan av., 370000
Tel: 93-95-95, 93-79-33
Fax: 93-33-96
e-mail bak_air@azerin.com
Bashkir Airways
135 Khagani st.
Baku 370000
Tel. 98-77-17
Fax 98-39-83
British Airways
96 Nizami Street, Landmark Plaza, 370000
Tel: 97-05-00 / 05 (city centre)
Tel: 97-26-85 (Bina airport)
Fax: 97-77-03
Caspian Helicopters
3 Yusifzade st., 370007
Tel/Fax: 66-65-91
Coyne Airways
22/7 Samad Vurgun Street, 370000
Tel: 94-93-32
Fax: 97-33-03
E-mail: anar@coyne.baku.az
Czech Airlines
Domodedovo Airlines
16 Samad Vurgun Street, 370000
Tel /Fax: 92-42-43,
98-92-39
Emirates
34 Khagani Street, 370000
Tel: 97-15-41 / 42
Fax: 97-03-30
Forair
1061 Inglab Street
Baku 370110
Tel: 98-33-01
Fax: 98-68-31
Imair airlines
115 Hazi Aslanov Street
Baku, 370000,
Tel: 934171, 982376, 989100, 989101 (headquarters)
Tel: 980970 (Bina airport)
Tel: 982438, 984587 (reservations)
Fax: 932777, 930478
E-mail: root@impro.baku.az
SITA: BAKDDIK (headquaters) / BAKRCIK (reservations)
AFTN: UBBBIKXO (headquarters)

Iran Air
85 Salatin Askerova st., 370002
Tel: 94-75-54
Fax: 98-34-55
Kazakhstan Airways
135/126 Nizami Street, 370010
Tel: 98-48-43
Fax: 97-22-17
Kolavia
135 Nizami
Tel: 93-91-39
Fax: 98-29-57:
Kyrgyzstan Airlines
3 Azadlyg av.
Baku 370000
Tel: 938965
Fax: 938965
Lufthansa
Hyatt Regency Hotel, 1 Bakikhanov Street, 370022
Tel: 90-70-50, 90-70-51
Fax: 90-70-49
Pakistan Int. Airlines
85 Salatyn Askarova Street, 370000
Tel: 95-93-40, 94-88-57
Fax: 95-93-40
Perm Airlines
135 Nizami, 370000
Tel: 94-88-56/7
Fax: 98-29-57
Samara Airlines
135/126 Nizami Street, 370010
Tel: 98-95-71
Fax: 98-95-71
Tatarstan Airlines
135/126 Nizami Street, 370010
Tel: 98-48-43
Fax: 98-95-71
Transaero
33/35 U. Hajibeyov Street
Tel: 97-03-30
Fax: 98-40-28
Turan Air
102 Mardanov Gardashlari st., 370003
Tel: 94-19-43, 97-14-76 (City centre)
Tel: 98-92-69 (Bina airport)
Fax: 98-94-34
e-mail: turan@azeri.com
Turkish Airlines
11 Husi Hajiyev Street, 370003
Tel: 94-19-43, 94-25-05 (City centre)
Tel: 98-92-69 (Bina airport)
Fax: 98-00-47
Turkmen Airways
1 Azadlyg Avenue
Tel: 98-88-58, 93-77-52
Ural Air
135 Nizami, 370000
Tel: 94-88-56/7
Uzbekistan Air
3 Azadlyg Avenue, 370000
Tel/ Fax: 93-89-65
| | |
| --- | --- |
| A to Z of Azerbaijan / A dan Z ye Azerbaycan | www.azerb.com |