| | |
| --- | --- |
| Baku Public Transportation | Azerb.com |
| | |

Baku has bus, tram, trolley-bus and underground services. These are inexpensive and the network is very comprehensive, though the confort, quality and reliability of the services varies.

Baku is the only city in Azerbaijan with a metro service. Baku metro is very practical, stations are generally clean and safe. Trains are also clean and run every two or three minutes. Fares are cheap and independent from the lenght of the journey.

The metro has had two bomb attacks in 1994 and several serious safety incidents. In 1995 over 300 people died due to carbon monoxide poisoning in one incident, which is still today the world's most serious ever accident in a subway system. Nevertheless the metro is widely used even by foreigners.
There are two main lines, one going around the city centre and another roughly in a northwest-southeast axis, plus two small appendixes. The two main metro lines meet near Baku's central railway station, at the double station of Jafar Jabbarly/28th May - the entrance is trough Jafar Jabbarly. The old town is served by the Baku Soviet station. The other downtown station is Sahil, near the 26 Comissars square. The only surface station is Bakmil, right before the depot.

A total of 20 stations are currently operating. The most recent, Azi Aslanov, opened in 2002 representing an extension of the central line, south of Akhmedly station.The platforms are 100 metres long, taking 5-car-trains. The northwest-southeast line is currently being extended in its northern end, with two stations under construction: Nasimi and Azadlyq av., and a third one planned - Ingilab. There is also a plan to extend the line from Azi Aslanov, with four new stations, ending in Guneshi. A third line starting in Nizami station and going south is being studied.
The stations were built with the grandiosity expected of Soviet designers and are an attraction by their own right, although improved maintenance as well as investment and modernization are urgent. Don't miss the amaising mosaics at Nizami station, the marble and copperwork at Elmlyar Akademiyasy station or the tall marble columns and the mosaic at Ganjlik station. All stations are underground with the exception of Bakmil, right before the depot. Beware if you are using an old map: several stations had their names altered following independence from the USSR (eg. 28 May was 28 April, Gara Garayev was Aurora, Sahil was Baky Komissary...!).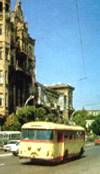 The trains operate from 6:00 am till 1:00 am the next day. To use the metro you should buy a magnetic card and charge it with as many trips as you wish. This is required even you need to do a single trip. At present the are no single trip tickets, only the above mentions magnetic cards, although the equipment installed in the stations allows such tickets.
Metro map.
Mobile phones have network coverage in the metro stations.
Buses, trams and trolleys fares are paid in cash directly to the driver or controller - often no slip is given in return.
There's no easy way to obtain a schedule, but the routes are posted inside the shelters at bus and trolley stops. Buses, trolleys and trams run from 5 or 6 am to 11 pm or midnight. Often there are private minibuses shadowing the official bus routes, costing about double and offering a slightly better service (marshruts).
A funicular railway takes you up to Martyr's alley (former Kirov park). It dates from 1960 and is often out of service. Like the metro, not a good place to photograph due to the paranoid policemen and soldiers.

Please remember that to take 'trolley 11' is local jargon for walking!
A good alternative to public transport in Baku is to hire a private car with driver. A minimum charge is approximately 30 Euro a day (for 8 hours). See also driving.



Most taxis are unmetered. A journey anywhere within the city centre will cost 15,000 manats, though it is possible to negotiate much lower fares if you have the patience. Expect to be asked more if you dont't speak Azeri or Russian. Driving may be a little adventurous and rear seat belts do not abound.

Taxis do not generally accept foreign currencies. Make sure you have change before travelling as some drivers may not.

There are only two official taxi companies in Baku, use either the yellow Star cabs, or the white taxis with blue sign from Azerq Taxis. Those with blue license plates are officially licensed and are considered to be safer. You can book taxis by calling 62-15-15 or 62-12-44/7.
As in Russia it is common practice to flag down private cars and agree on a price for the ride, it may seem strange initially, but you soon get used to this.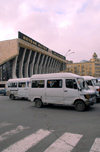 As elsewhere in the Caucasus you'll find shared taxis, usually called marshrut / marsrut / marshrutka, from the French 'marche route', via the Russian 'marshrut'. The vehicles are usually 12-seat Russian vans or second hand vans from western Europe. It is common for 15 people to crowd into a 10 person minibus. Have in mind that Azerbaijan is not a line forming society...

Marshruts drive along a fixed route and stop at any point along that route when flagged down or told to stop. They run parallel and more often than most buses but some have their own routes. Figuring out how to get from one place to another by marshruts can be a challenge, because a master list of routes is not available.

Marshruts / marshrutki can be used for local, regional and even international transportation. They have no schedules, they leave when full! On long trips count with stops at road-side restaurants, although many passengers choos to bring their own food.

For the independent traveller this is the mode of transport with the best combination of convenience and cost. As a bonus you get to know the locals well. Drivers may be a little erratic, though. Border crossings can be slow, due to the quantity of luggage to be checked and the bribes to be negotiated.

| | |
| --- | --- |
| A to Z of Azerbaijan / A dan Z ye Azerbaycan | www.azerb.com |