| | |
| --- | --- |
| Driving in Azerbaijan | Azerb.com |
| | |

Most Azeri roads and streets are in such a state that it is practically impossible to break the speed limits, exception made for some avenues and streets in Baku which are kept in tip top shape (see map for main roads). Side streets and minor roads have all kinds of debris, open manholes, and are pot-holed, unmarked and unlit. Even in some areas in the centre of the capital, streetlights are barely noticeable. Villages and rural areas are woefully under equipped with earth roads and puddles like great lakes.

Drivers pay little heed to traffic regulations, so expect a certain degree of artistic liberty when driving. Azeri driving behaviour is not incredibly dangerous nor aggressive, but don't depend on drivers to stay in their own lanes. Nor will they always pay attention to traffic signals or other drivers. Horns are an endemic phenomenon: personalized car horns are considered trendy in Baku and you'll see the noveau riche in their Hummers, Mercedes and BMWs often with two horns going at once - an ordinary one, and one that plays a tune, the theme from the film the Godfather is a favourite... Barking cars can also be heard. Often family cars are loaded with cargo in a way that could rival a Pakistani truck - beware as it is not uncommon for it to fall.

Pedestrians constantly cross the street everywhere. With the number of cars on the road growing exponentially, parking tends to be very creative, you will realize this as soon as you get out of the airport terminal.


Note that "left-hand" turns across traffic are absolutely forbidden. You have to find a way to get to the other side of the street and then make a "right-hand" turn. Sometimes this means driving a kilometre or so out of your way and reversing direction. Sometimes, you'll find cars backing up a one-way street just so they can "legally" head in the direction they want to go. Drive defensively at all times.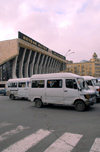 Always carry your vehicle registration papers, passport and driver's licence. Also, make sure that your car's paperwork gives you authorization to drive it. An international driver's license is valid in Azerbaijan if you stay in the country for less than 4 months. After that, you'll need to get a stamp from the traffic police (79 S. Vurgun, tel. 984 002).

If a policeman signals you to pull over, he'll use a siren or point with a baton. Above all, stay calm and don't get out of the car. The officer will shake hands with you first, introduce himself, then ask for your license and car's documentation. Answer his questions, but don't volunteer information. Be ready to apologize. The officer may be looking for a bribe, but will eventually let you go without one. The police's obscure fines are more often than not, not for the local road fund, most are open to bribery to counteract their miserable wages.

Driving under the influence of alcohol is a very serious offence in Azerbaijan, so make sure that you have a replacement driver even if you plan to drink only a small amount of alcohol.

From Azerbaijan International (6.2) Summer 1998




Local as well as international companies operate in Baku. If you have no experience of driving in Azerbaijan consider renting a car with a driver, specially if your knowledge of Azeri or Russian aren't in your CV (see driving). Check all insurance details, specially with the smaller companies. The car rental companies are located mostly in town, but some have opened desks at the airport. You also have the option of renting a private car with driver.

Car Rental Company
Phone
Fax
Ankara-Travel
546 Landau
930393
396742
Autostern (Daimler Mercedes representative)
26 Gasym Majidov Street, 370065
e-mail:autostern@headoffice.baku.az
941308, 942995
948413
Avis
3 Samad Vurgun Street, Apt.6
e-mail:koleli@avis.baku.az
975455
975553
Baku-Motors
111/90 Nizami
933689
NA
Caspian-Motors
27, 28th May Street
e-mail: caspianmotors@azerin.com
981415, 981585
932141
Hertz (town)
64/18 Uzeyir Hajibeyov Street
e-mail: anjey@hertz.baku.az
982022, 982198
984354
Hertz (Airport)
Baku, Bina International Airport, North Terminal - Arrival
e-mail: anjey@hertz.baku.az
971857
971857
Improtex-Travel
66 Nizami Street
e-mail: improlcc@azerin.com
931728, 932279
937520
Nurgyun Motors
27 U. Hajibayov
983537
NA
Specter
3 Alizadeh
935636
935636

Although this is the land of oil, the quality of the refined products may no be outstanding, as the refineries operate with outdated technology and maintenance procedures and additives are not always the most advanced. Unlike in most of western Europe, leaded fuel is still available.

Fuel supplies outside Baku may not be reliable, so check before taking to the road on long trips, if in doubt get a jerrycan. In some stations you may find only 91 octane gasoline (you will find 95, but 98 octane in unheard of). Some stations also include money exchange services and all kinds of shops.
Below you'll find a list of gas stations in the Baku area.

Azpetrol
Darnagyul road
Tel: 631 417

Azpetrol
2 Koshkinaby
Tel: 392 166

Azpetrol
1125 Moscow av.
Tel: 661 884

Azpetrol
Zardaby av.
Tel: 323 335

Lukoil
Neftchilar av.
Tel: 917 144

Lukoil
Yeny Surakhani settlement
Tel: 978 421

Tapet
Ahmmadi settlement
Block 2322, M. Hady
Tel: 760 177
Fax: 738 042

Tapet
Airport road
Tel: 560 086
Fax: 982 876

Tapet
Neftchilar av.
Tel: 917 168
Fax: 974 527

Tapet
Tiblisi av.
Tel: 601 830
Fax: 681 702
Autostern
Khirdalan settlement, Avtovaz, 370001
Tel: 936 065
Fax: 971 985

Car Service Centre
Khirdalan settlement
Tel: 427 375

Car Service Centre
Sabunchy settlement
Tel: 241605

Chelik Motors
Pishevary, 9 settlement
Tel: 682 963

General Motors Performance Centre
88 Zardabi st.
Tel: 977 024
Fax: 976 552

Idrak
98, Sh. Badalbeyly, 370000
Tel: 989 160
Fax: 989 158

Milan
3 Bailov settlement, 370007
Tel: 916 604

Nur
1 B. Sardarov
Tel: 922 363
| | |
| --- | --- |
| A to Z of Azerbaijan / A dan Z ye Azerbaycan | www.azerb.com |