Communications in Azerbaijan

Azerb.com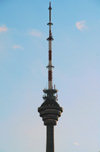 Telephones - main lines in use: 1.091 million (2005)

The telephone system in Baku does not work too well, although it is being upgraded. The government, through the Ministry of Communications and Azertel controls the telephone system. An estimated 200,000 clients are awaiting telephone installation, providing a bonanza for mobile phone operators.

The majority of telephones are in Baku and other main cities - about 700 villages still don't have public phone service. The quality of local calls varies considerably depending on which telephone exchange is used. All long distance calls must use Azertel's lines. The Nakhchivan exclave is connected to the 'mainland' via a satellite service.

International: cable and microwave radio relay connections to former Soviet republics; connection through Moscow international gateway switch to other countries; satellite earth stations-1 Intelsat and 1 Intersputnik. Intelsat provides service to Turkey and through Turkey to 200 more countries, additional satellite providers supply services between Baku and specific countries. Azerbaijan is a signator of the Trans-Asia-Europe Fiber-optic line (TAE), although the lines are not yet laid the Turkish satellite and a microwave between Azerbaijan and Iran provide world-wide access through this system.
International calls are difficult to make. From some exchanges, you can now dial abroad directly, but from many, you need to go through the operator. If that is the case, first have to book your call, and then wait until the operator calls you back. With some operators, if you don't speak a bit of Azeri or Russian this may become a little tricky.
Domestic calls: see list of telephone codes for Azeri cities and towns. See also the list of emergency numbers.


Cellular telephones can be purchased and used locally. Two companies share the market, Azercel - a subsidiary of Aztelecom - and Bakcell (Motorola). GSM coverage is still basic, but growing fast. Coverage includes the areas around Baku, Sumgait, Shemaka, Ganja, Astara, Mingecavir, Agstafa and Nakhichevan (see maps).
Due to high roaming charges the best option for foreign visitors is to buy a SIM-card from one of two cellular phone operators and get local phone number. You are required to show ID since all the mobile numbers have to be registered. Top-up vouchers are also easily available. The cost of SIM card is around 8 Euros, plus a 7 Euros top-up voucher will allow around 30 minutes of talk time within Azerbaijan. Incoming calls to your mobile are free of charge.
To call cellular telephones from Baku:
Azercell (GSM 900) phone: 050 + seven digit number - GSM Code 400 01

(Tbilisi Ave. 61a, Tel: +99 412 496-70-07, Fax: +99 412 430-05-68)
Bakcell (GSM 900) phone: 055 + six digit number - GSM Code 400 02

(U.Hadgibekov 24, Tel: +99 412 498-94-44, Fax: +99 412 498-38-82)
Azerfon LLC - 'Nar Mobile' trade mark (Gsm 900-1800) phone: 070 + seven digit number - GSM code 400 04
(Tbilisi Ave. Alatava str.2 , Tel: +99 412 444-07-30, Fax: +99 412 444-07-31)
(if calling a mobile phone from abroad, use +994 5... - omit the 0)
To call from mobile to landline dial first 012 then phone number.
SMS (short message service) is available for both Azercell and Bakcell mobile phones.

Azerbaijan leads the way in per capita mobile phone use in the CIS with over 1,456,500 lines (2004). In the words of BBC correspondent Chloe Arnold: "Everyone I know in Azerbaijan owns a mobile phone, from the president's advisers to the bearded old woman who sells lemons at the end of our street. Some people have two or three. [.... ] Mobiles have become as much a part of Azeri culture as jumping over bonfires to bring good luck during the Novruz spring festival, or slaughtering a lamb and stepping over its still flailing body on the way to your wedding. No one bothers to switch their telephones off in restaurants or theatres. Last time I went to the cinema, a man in the front row finally answered his mobile on the 14th ring and, after telling the caller very loudly that he was "IN THE CINEMA!" proceeded to talk to him through the rest of the film. [.... ] But a lot of the time here in Azerbaijan, mobile phones are just for show. Azeris spend so much on the latest Wap digital voice-recognition model with built-in camera, they can't afford to use it. When someone rings them, they scribble down the number that appears on the screen without answering the phone and then call them back from a landline. Landlines are free of charge."

Public pay phones are available for local calls. To use them, purchase tokens from the Telephone Exchange or from some shops and kiosks (token allows a call of indefinite duration). However, it's usually easier just to go into a store and ask to use their phone; they usually won't mind. You will also find phone offices manned by an attendant who will place the call for you.
There are only a few card operated public phones. These allow calls to any destination. The cards can be bought from central post and telephone offices and at the railway station.


E-mail via several local internet service providers is available, as well as for public access from a number of internet cafés (please see the internet section).


The Azeri postal system is functional, but cannot be considered secure or reliable. Registering mail and packages may help the chances of letters and parcels arriving at their destination, but they will not arrive any faster. The postal code system is that of the former Soviet Union.
The central post office is to the left of the Azerbaijan Hotel, on Azerbaijan Avenue, 41 - tel. 984000. If you are after some nostalgia, the post office still sells some Soviet era postcards (while stocks last!). For the philatelist very interesting interesting stamp editions are available, usually printed in multicolored lithography. Some Azeri stamps from the 1918-1920 republic are now quite expensive.
Express mail services:

ASE Express
9 Sidbeily, 37006
Tel. 986448, 975574
Fax 921638

DHL
144 A. Sakhat, 370078
Tel. 934114, 934228
Fax 934728

EMS
Main post office
934884

Federal Express
147 B. Saforgly, 370009
Tel. 940453

PLM
111/60 Nizami, 370010
Tel. 985162

UPS
14 Mammadaliyev, 370016
Tel. 933991
| | |
| --- | --- |
| A to Z of Azerbaijan / A dan Z ye Azerbaycan | www.azerb.com |